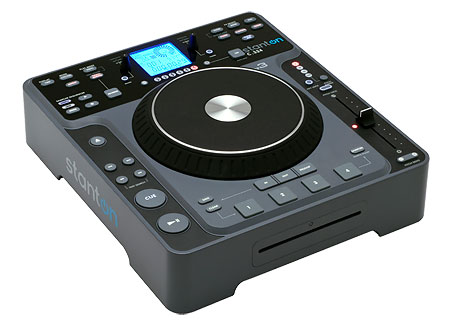 Heute hat Stanton den neuen TableTop CD-Player Stanton C.324 vorgestellt.
Der Öffentlichkeit wird er erstmals auf der Winter-NAMM 2008 vorgestellt. Laut den Offiziellen ist der Stanton C.324 ein Update des Stanton C.314, dem er auch äußerlich sehr ähnelt.
Stanton C.324
Der Stanton C.324 ist auf Digital DJ's zugeschnitten, die mit ihre CD's und MP3's ein Vinyl Feeling haben wollen.
Die neu hinzugefügten Trigger Pads erlauben, dass Loopen in Echtzeit. Folglich hat der neue Stanton C.324 auch eine Samplebank.
Stanton C.324: Features
Tabletop CD player with touch sensitive jog wheel for scratching and beat juggling
CD slot drive mechanism
MP3 playback with text display and onboard file and folder browsing
Onboard pattern and real time sequencer for the on-the-fly drum machine style performances
7 high-quality beat synchronized digital effects: Filter, Auto Filter, Echo, Phaser, Flanger, Transform, Pan
Beat synchronized sampling and looping with four trigger pads and cue memory
Auto and manual BPM control
Vinyl emulation with adjustable platter start / brake speed
Adjustable pitch (+/- 8%, 16%, 25%, 100%) with pitch blend
Key lock allows a song's tempo to be changed without affecting the original key of the song
Reliable anti-shock playback with auto cue
Blue LCD display with visual marketing
S/PDIF digital output
Stanton C.324: Preis und Verfügbarkeit
Derzeit ist noch nichts bekannt über Preis oder Verfügbarkeit des Stanton C.324.